About us
Chaa-Ba Thai Cafe serves different Thai dishes from salads, curry, soups and authentic fried rice. We are located at 9/72 Basnett St., Chermside West QLD. You can order your food online by just clicking the Order Online button and it up to you if you want your food to be delivered or picked up. Our main popular dishes include Fresh Duck Roll, Coconut and Prawns, Tom Yum, Tom Kha and Tom Jurd. Some of our specialties are Ginger Fish, Siam Prawns Curry, Calamari Basil, Chu Chee and Tamarind Prawns. We also have a wide variety of curries such as Panang, Yellow, Jungle and Roast Duck Curry.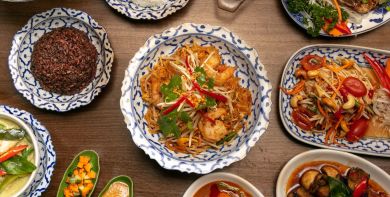 Reviews
Greg
"Best Thai in our area"
2/01/2020
Michael
"Great food, great service"
1/01/2020