About Us
Chaa-Ba Thai Cafe serves different Thai dishes from salads, curry, soups and authentic fried rice. We are located at 9/72 Basnett St., Chermside West QLD. You can order your food online by just clicking the Order Online button and it up to you if you want your food to be delivered or picked up. Our main popular dishes include Fresh Duck Roll, Coconut and Prawns, Tom Yum, Tom Kha and Tom Jurd. Some of our specialties are Ginger Fish, Siam Prawns Curry, Calamari Basil, Chu Chee and Tamarind Prawns. We also have a wide variety of curries such as Panang, Yellow, Jungle and Roast Duck Curry.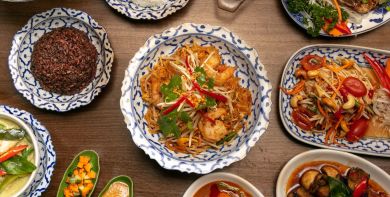 Reviews
beautifulwoo
"Lovely and very tasty especially the money bags"
Belinda
"Beautiful tender chicken in the Panang curry. Ready in time and enjoyed the sticky rice dessert. YUM! Will be back next time I have a hankering for Thai."
Courtney
"Consistently delicious, good value/serves - our favourite local Thai :)"
We deliver to
4012 Wavell Heights, 4032 Chermside, 4032 Chermside West, 4034 Aspley, 4035 Bridgeman Downs, 4053 Everton Park, 4053 Mcdowall, 4053 Stafford, 4053 Stafford Heights